AHF's core technical capability is built on a proven methodology to incubate and launch country-level federations. We aim to advocate for, mentor, support, and unify the private health sector and harness the private sector potential through a three-pronged approach:

1.UNIFY the private sector by incubating and strengthening the country federations
AHF has honed its framework and developed tools to reach the full potential of federations through the following five stages:
1) Establishment
2) Legal registration
3) Membership enrollment
4) Activities
5) Partnership formation

AHF has worked to mentor country federations to ensure sustainability after inception through targeted and
contextualized technical assistance informed by strategic sessions co-led with country federations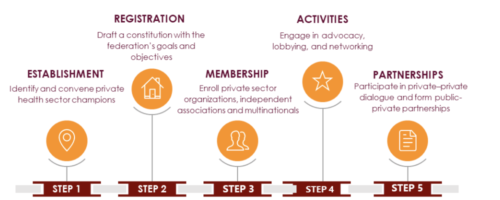 2. DEVELOP Health Markets:
AHF's in-depth country and market knowledge uniquely place it to facilitate partnership opportunities, which have resulted in the expansion of investment for new services and technologies in Africa.
3. ENGAGE Public and Private Actors:
Through its engagement with Ministries of Health, the African Union, and other regulatory bodies, AHF fosters a supportive policy environment that enables the private sector to work collaboratively with the public sector towards Universal Health Care (UHC) via Public-Private Partnerships (PPP) and private sector advocacy.