Dr. Amit N. Thakker
President Africa Healthcare Federation
AHF is building a strong relationship between the public and private sectors, not only at the national level, but at the overall Africa level. Within just four or five years, we have made significant progress.There was a time when it was difficult to convince Ministries of Health (MOH) to attend our meetings. In the last few years, however, this has changed.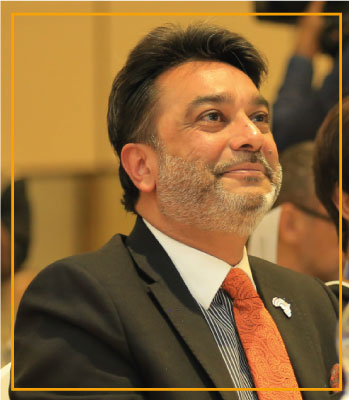 MOH wants to learn what works in the private sector, unlocking efficiencies.They also are willing to work with the private sector to bring them in line with national priorities. This has meant we have had more active participation from the public sector and today we have the honor of spending time with leaders who are making a difference. 
Nothing can be done without trust. In order to make change, we need to trust each other. We have heard a lot about PPPs. We've heard that PPPs are the way to go. But do we actually know what that means? The private sector has organized itself into associations and federations. Thirty-five countries in Africa have formal private health sector entities that are engaging with their respective governments. It's difficult for the government to engage with a private sector that is fragmented. As the private sector, we have a responsibility to unify, sorting out our internal challenges when it comes to coordination and trust, in order for us to engage effectively with the government.
The private sector has been accused of only looking after the rich and only being interested in money. But the vast majority is interested in strengthening both the private and public sector, removing businesses that are fake or operating in corrupt or illegal ways, and contributing to better health. Legitimate private sector organizations are investing in their countries, hoping to make money, yes, but also very invested in doing good. The Private sector is not just interested in making money, we also want to strengthen health systems. Working together, we will ensure that we leave no one behind.
H.E Amira El Fadil,
Commissioner of Social Affairs, African Union Commission
Having participated in the AHB symposium last year, I am thankful to return and represent the African Union (AU) once again. We want to promote the health of the African Union, bringing together the private sector and public sector and fostering goodwill between all stakeholders.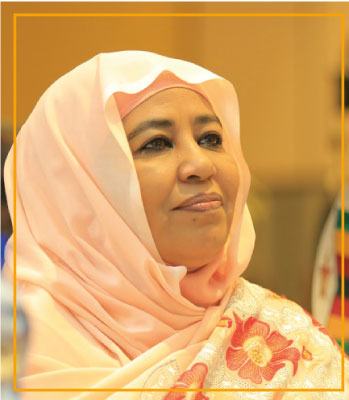 The government sector has historically been easier to engage with because it is more organized and coordinated, while the private sector is naturally more fragmented. There has been significant progress through the creation of private sector associations and federations, but there is opportunity for more integration at the private sector level. Congratulations to those regions who have already formed their federations. Governments alone cannot achieve the targets and goals we have set for ourselves. We need the private sector, development partners, and civil society organizations to work with us.
The theme of this symposium is "Integrating Africa" and we are pleased to confirm the successful signing of the Africa Continental Free Trade Agreement (AfCFTA), which will come into effect in 2020. This is a significant achievement led by the African Union. Most of the states that came signed on the spot. Thirty member states have ratified it and 58 have signed. Our inspiration is social, political, and economic integration between all African countries. We are continually moving toward the Africa we want. In line with Agenda 2063, we have also promoted the free movement of people across Africa.
Eventually, we want the free movement of people, commodities, goods, and so on. Then we will have one Africa. Another way that Africa is being integrated and strengthened is through continent-wide technical institutions. The Africa Center for Disease Control (CDC) is a first for the continent and is functioning well to combat disease across the continent. The work they have been doing in the DRC to address the Ebola crisis is a good example of the need for these types of organizations. We are now working on the Africa Medical Agency (AMA), which was adopted in early 2019. It has taken three years of negotiations to reach an agreement on the details of this institution. This will form a regulatory body for African pharmaceuticals, and we hope that more pharmaceutical manufacturing will take place within Africa, rather than only importing from outside the continent. The African Union needs the pharmaceutical industry to come on board and work together to make this a success.
As we move towards the Africa we want, progress is slow in some areas, but fast in others. There are many exciting things happening, but there is significant room to grow. We need to see more women in leadership. We need to create effective frameworks for collaboration between sectors. We need more resources. Symposiums like this can provide the space for conversations that can overcome these challenges. Ministers coming from member states, you have a role to play.
Private sector organizations, please work with us, rather than in parallel or contradictory initiatives. If we all work together, we can create a healthier, happier, more successful Africa.
H.E. Dr. Lia Tadesse,
Minister for Health Ethiopia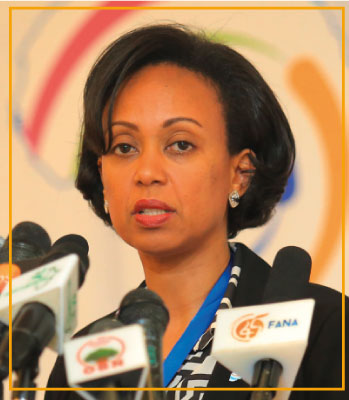 It is wonderful to hear that more than 50 countries and 80 organizations are represented in this symposium.Many countries have started creating effective organizational structures in the form of associations of private sector organizations in order to engage effectively and productively with the government.
It is a pleasure that Ethiopia has created the Ethiopia Healthcare Federation to show change through this platform. We are committed to working with the private sector to accelerate UHC, especially in tertiary care, high impact private health interventions, and the pharmaceutical industry.
For the private and public sector to work together, trust is key. We want to take these partnerships beyond theory and into practice, learning from the success stories of other entities in Africa as we move forward. It is an honor for Ethiopia to be hosting this event. Working together, we will realize the Africa we want.