African leaders gathered in Addis Ababa on February 9th, 2019 in Addis Ababa where the objective was to increase commitments for investments in health sectors across the continent and the importance of partnerships in order to grow this critical sector. This exclusive meeting (invite only) will give your organization visibility and opportunity to meet with high level leaders including;

H.E. President Paul Kagame, President of Rwanda and the AU Chair called the Africa Leadership Meeting: Investing Health where high-level stakeholders of the health sector convened to further commitments in healthcare. Attendees included African Heads of State and Government, Ministers of Health and Finance, business leaders and global donors and partners. AHB ensured that the private sector was well represented at the Africa Leadership meeting as the private sector liaison for the African Union. This involved two parts:

An exclusive exhibition of private sector companies visited by the Heads of States to showcase what the private health sector is doing in Africa;

Assisting technical working groups and the organizers to ensure the private health sector voice was included in a robust way in the agenda and through participation in the meeting.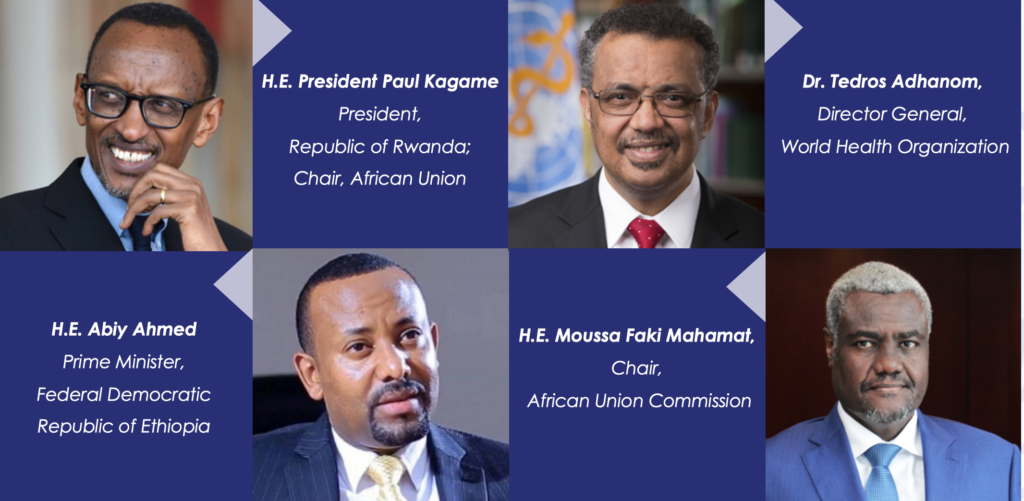 Peter Sands, Executive Director of the Global Fund said he was inspired by African led initiatives in healthcare and the solidarity seen at the Africa Leadership Meeting. He said, 'working together with governments, civil society and communities, and the private sector, we can save lives and overcome urgent health challenges.'

It was suggested that African ministers of health should meet more frequently to work together on the health status in the continent and report their progress to the African Union Heads of State and Government Summit. In this way, African governments can learn from initiatives across the continent, identify synergies that unlock efficiencies and collaborate in relation to continental priorities. African leaders urged their counterparts to focus on improved efficiency in order to strengthen national health systems.

---
For the private health sector, this meeting was seen as an important step towards acknowledging sustainability and private sector efforts towards health outcomes. The meeting was an important platform to build on public private dialogue, create awareness and commitments in relation to investments in healthcare in Africa and urge African leadership to create an enabling environment for business.
This shall lead to a stronger private health sector which can further contribute to economic development and goals towards achieving universal health coverage in an efficient and affordable manner.